INTERIOR
Aug 15, 2003 - Karla has kindly offered to take care of the seats. She is working now with Becki Orndorff and others on that.
Aug 27 - Got some gray speckle paint (used for painting auto trunk interiors) and tried it on one of the cabin covers. Undecided now if I like it or not. It leaves the surface pretty rough, so difficulty in cleaning may be a problem. It looks OK, though, although I don't know that it looks that much better than the gray primer that's already there. 0.5 hr
Aug 28 - Received sample kit & CD from Becki Orndorff. Karla & I looked over the samples & quickly agreed on what would look the best. 2.0 hr
Sep 1 - Reviewed sample colors with Karla, and compared them to primer gray interior versus speckle paint interior. She agreed with me that the speckle paint looked nice, but so did the primer gray, so we decided to skip the speckle paint and just stay with the gray. 1.0 hr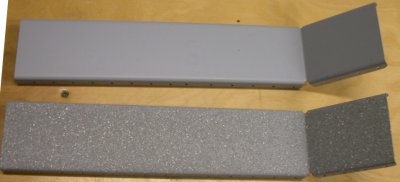 This shows one piece done in the primer and one done in the spatter paint.
Nov 11 - Looking into finalizing decision for seats. Oregon Aero has outstanding reputation, but costs twice as much as Becki Orndorff's seats. 1.0 hr
Nov 17 - Ordered Oregon Aero seats and Orndorff fabric. It was a hard decision, and the Oregon Aero cost twice as much; an incredible amount for what is really nothing more than a couple of cushions, but I guess I can't go wrong with them. They seem to be the best, and I know the new RV-10 specifies Oregon Aero seats. We liked the Orndorff fabric the best, though. 2.0 hr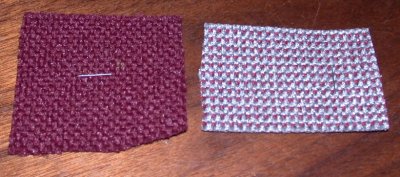 Here are the seat fabrics Karla and I chose. The maroon will go in the center, and the gray/maroon will surround it. If I put any cloth on any of the cabin sheet metal, it will be the gray/maroon.
Nov 18 - looking into ordering an oxygen system from Aerox. I really think I want to take advantage of flying high with the supercharger, but I am getting concerned about weight creep with stuff like the oxygen system. I also sent emails to a couple seat belt vendors about their seat belt systems.
Nov 20 - 2 days later, no response from either seat belt vendor. I'll probably go with which ever one responds first. It amazes me, and irritates me greatly, that these companies spend thousands of dollars on advertising and marketing, then they ignore someone knocking on their door with cash in hand. Both Orndorff and Oregon Aero, as well as Aerox, had good responsiveness.
Nov 25 - Wrote to both seat belt vendors again. No response. What terrible responsiveness and poor customer relations! The companies are Silver Parachute and Hooker Harness. I asked on the RV7 list about alternatives to these loser companies. The consensus was that Hooker Harness makes good products, but has very poor customer service. It was suggested that I buy the Hooker Harness belts from Mark Frederick at TeamRocket Aircraft. Not only does Mark provide good, responsive service, he also sells the Hooker Harness belts cheaper than you can get them direct from Hooker.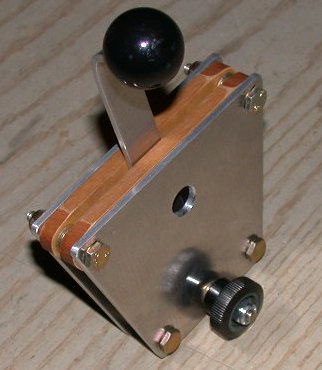 I received my throttle quadrant from Aircraft Spruce. Some of these quadrants cost several hundred dollars; this one was about $40. It looks like it will work fine for the Eggenfellner Subaru. I'll probably mount it on some sort of console. I also ordered some round and square T6061 tubing to make a hollow "T" handle for this, to hold wires.
Nov 26, 2003 - Ordered seat belts from Mark at Team Rocket. BTW, that Team Rocket F1 Quick Build sure looks like a great airplane; even better performance than Van's. Too bad it's a tail-dragger only.
Dec 2 - Did some thinking and planning regarding my throttle quadrant. I'd like to have a few switches in the handle of the throttle. 1.0 hr
Dec 3 - More planning regarding how I want to modify the throttle quadrant for a tubular "T" handle and able to handle switches and wiring. Put together and placed parts order from ACS. Tried putting Infinity grips on and the adapter for the RT side does not fit. Will email Infinity about it. .2.25 hr
Dec 9 - Received ACS order with aluminum stock for modifying quadrant, and various other small parts I need. Also received Oregon Aero un-upholstered seats, for initial fitting. Unpack, inventory, put away parts. Update web site. 1.0 hr + 3.0 hr doc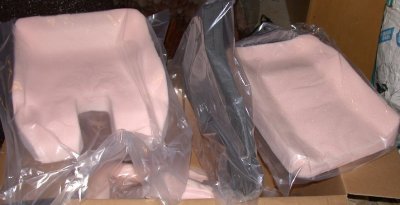 Here are one pair of Oregon Aero seat cushion cores. They are much stiffer than I had thought. The bolsters should work very well. They appear to be very well made. The black piece in the middle is a 2" spacer to go under the passenger seat, so Karla can see better. I will try them out in the plane later in the week, then send them back to Oregon Aero for upholstery.
Dec 14, 2003 - Put seat cores into place in plane, and sat on them with Karla, to determine if they fit well, before getting them upholstered. They seemed to fit nicely, and they were comfortable, so I boxed them up to ship back to Oregon Aero for upholstery.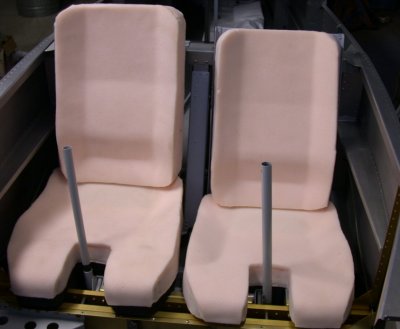 Here they are in the plane. The passenger side has an additional 2" black foam spacer that goes under the seat cushion, to give Karla a higher ride height. The seats are quite comfy, and seem to be made of high quality foam. They are quite dense, though, and surprisingly heavy. The black 2" spacer is much lighter. They need to do something about accommodating the crotch straps. Sent David at Oregon Aero an email about it.
Apr 19, 2004 - Finally got my seat belt order. I've been waiting since last November for my choice of colors to be in stock. They match the seats very nicely. I also received my completed seat cushions from Oregon Aero while I was working in Jamaica over the winter. It also turns out that my latest engine choice from Eggenfellner has an electric throttle, so I am not doing any more on the quadrant until I get my engine.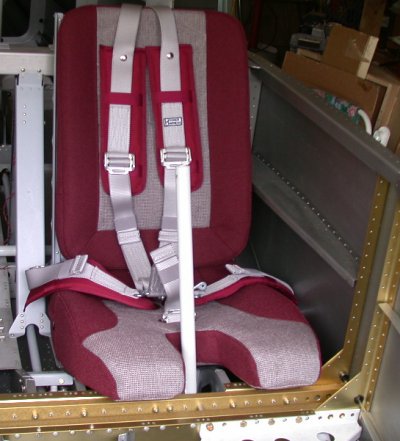 Here is the pilot seat in place, with the matching new Hooker Harness 5-point seat belts. They look pretty good. I guess the Hooker belts are pretty good, but Hooker's customer service and responsiveness really SUCKS.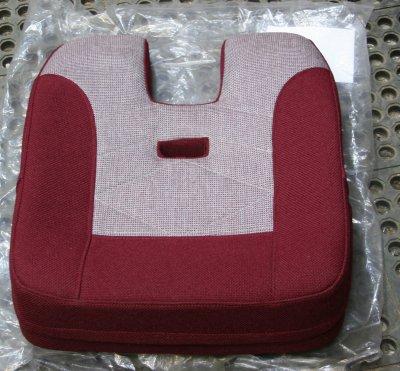 This is what the final seat cushions look like, with the hole cut in the foam and upholstered around.
December, 2006 update - I have been working on my console and quadrant. I forgot I had an "interior" page, so I put all that console stuff into my November and December fuselage pages. Please go there to see console info. The November and December engine pages contain updates related to the quadrant.
January, 2007 - final steps on making and fitting console and quadrant 17.25 hours
August, 2009 - install Infinity Aerospace pilot's grip 5.0 hours
BACK TO MY RV BUILDER'S HOME
BACK TO BRIAN'S HOME