FINISHING
Oct, 2002 - I haven't even ordered the Van's Finishing Kit yet. Mainly because the engine mounts are part of it, and I am still quite undecided as to engine choice. See ENGINE for more details on that. I have emailed Van's and asked them if I can get the Finishing Kit without the engine stuff.
FINISH KIT ORDERED 04/15/03 still undecided on engine - ordered everything else
June 3, 2003 - I needed to decide on engine, because I am ready to plumb in the fuel pump with the other fuel lines. I decided to commit to the 200 HP Lycoming, so I ordered the FI fuel pump kit and updated my Finishing Kit order with Van's.
June 18 - WOW - Finishing kit is being shipped already! I was quoted 18 weeks, but it's been about 8. Another of the many things Van's is very good about is shipping when they say they will, or before.
7/1/03 - I should have the Finish Kit next week.
July 7 - Delivery of the Finish Kit is scheduled for Friday, July 11. The shipper has it now, but I am out of town, working in NYC.
July 11 - Receive Finish Kit! My fuselage fuel plumbing is on hold until I can decide which engine I will use. Unload and unpack Finish Kit. 2.0 hr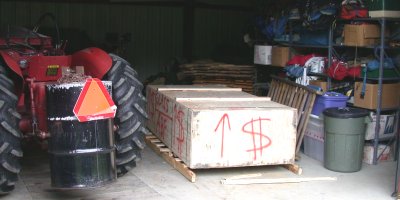 Got the box (8 feet long) off the truck and into the barn.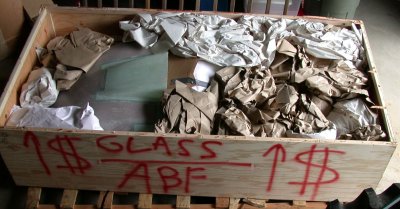 As usual, Van's does such a nice job of packing the kits.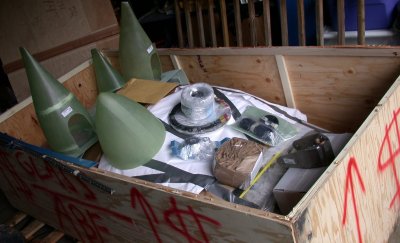 Some of the goodies on top, after removing a ton of packing paper.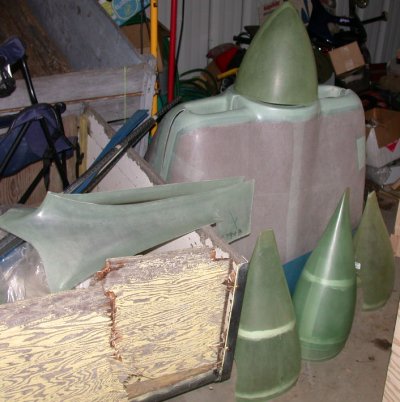 Lots of fiberglass parts; cowl, wheel pants, fairings, etc.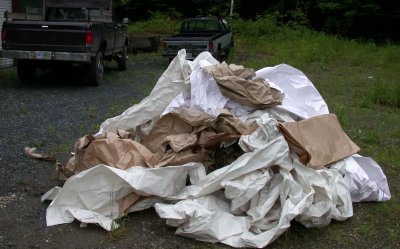 I pulled a mountain of packing paper out of the box.
Oooh - lightning struck the mountain of paper.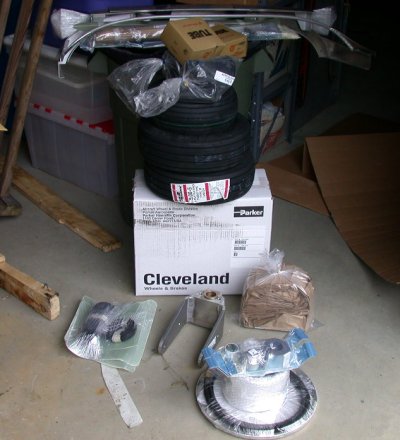 Brake and wheel parts.
July 12 - Work on Finish Kit inventory. See also Empennage work. 1.0 hr
July 13 - Inventory and put away Finish Kit parts. Back to working on Empennage. 4.0 hr
TIP FROM MAY, 2005 - The front wheel comes with the bearings taped to the outside of the wheel. You should get the tape off ASAP, and be sure to clean off the tape residue, You don't want the tube sticking or chafing on anything. Also, you should oil the front wheel bearings and races as soon as you get your finish kit, to prevent rust from forming on them before you assemble and mount the wheel. They come ungreased, and rust can form if they sit awhile before they get greased and assembled.
BACK TO MY RV BUILDER'S HOME
BACK TO BRIAN'S HOME